Mayor Adams tempers bail demands with calls to fund public defenders, prosecutors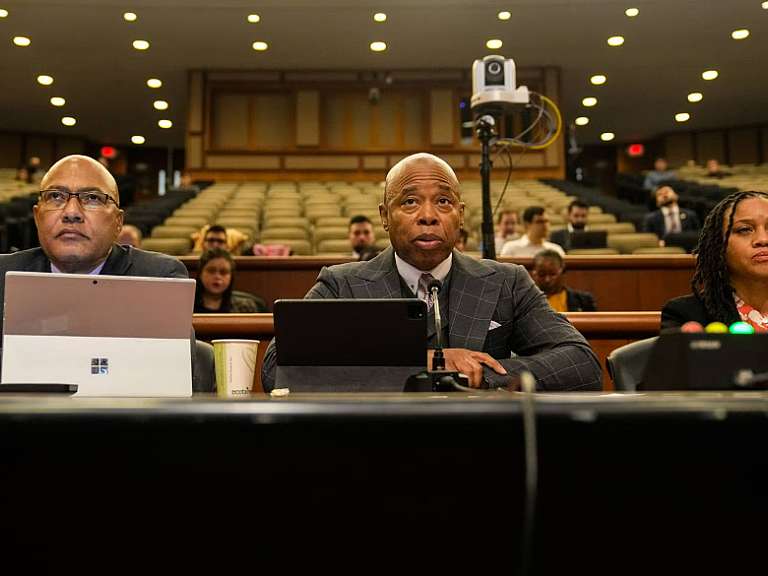 Adams first and foremost focused his attention on recidivism, though, which he has argued is a result of loopholes in the current state bail laws.
"A disproportionate share of serious crime in New York City is being driven by a limited number of extreme recidivists — approximately 2,000 people who commit crime after crime while out on the street on bail," Adams said during opening remarks at a joint budget hearing in Albany. "We must also recognize that our city's district attorneys and public defenders are overwhelmed and need our help immediately. The state must make a major investment in them now or risk depriving defendants of their constitutional right to a speedy trial."
His calls for more funding for defense attorneys and prosecutors were met with cheers from groups like the Legal Aid Society and others that provide defense lawyers to poor clients and that have been critical of Adams on a variety of issues over the past year.
"Defenders statewide are desperately in need of additional staffing and technological resources to collect, store, access and work with evidence in an increasingly digital era, while at the same time facing an unprecedented staffing and attrition crisis," Legal Aid and several other groups said in a written statement in response to Adams' testimony.
And while those groups said they "echo the call" from Adams on increased state funding for defense lawyers, they rejected his support of Hochul's proposal on bail.
That proposal, which Hochul laid out earlier this month, would amend the 2019 bail reform law. The law did away with cash bail for most misdemeanor and nonviolent felony defendants and mandated their release.
Hochul's proposed change would strip the law of language requiring judges to impose the "least restrictive" bail conditions, a move intended to ensure defendants return to court.

Read the full Daily News article here.