Times-Union: Advocates concerned as AI monitors the communications of [incarcerated people]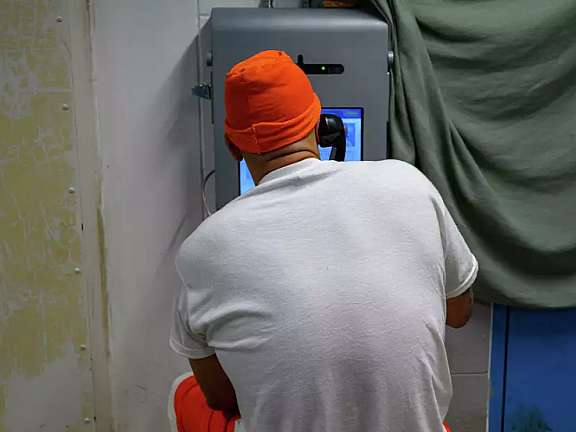 Above Image: Jim Franco/Times Union
From the Times Union we have some critical reporting regarding multiple lawsuits brought against Securus, a technology company which provides telephone services to thousands of incarcerated people in New York's prison system and throughout the country. The suits highlight recurring instances of the illegal recording and storage of privileged communications between incarcerated individuals and their legal representation. Additionally the article looks into various situations where the identity, location, & biometric data of friends & family members of the incarcerated (people who frequently have not been convicted or even accused of criminal activity) are recorded and stored by the company.
"Since 2014, they have been sued year after year, in jurisdiction after jurisdiction, for this same problem and the same practice and they're not doing anything to effectively end the issue," said Elizabeth Daniel Vasquez, a counsel at Brooklyn Defender Services.

Vasquez researches data, science and technology for the public defense office, which does advocacy work for incarcerated individuals and their families. The organization found recordings of their own conversations with clients through pre-trial discovery when that evidence had been provided by prosecutors, leading to an investigation by the New York City Department of Investigation."
...
"Securus launched a product in 2018 that brought together all of the data the company collected onto a single platform to be shared with law enforcement. Their comprehensive NexGen Secure Communications Platform allows law enforcement to search for all of the company's data points on any individual in the system."

...
"'This sort of expansion into all of these different areas is really just expansion into a bunch of different data sharing because what Securus is really about is collecting as much data as it can on the individuals that are incarcerated and the social networks that are connected with them," Vasquez said.'"